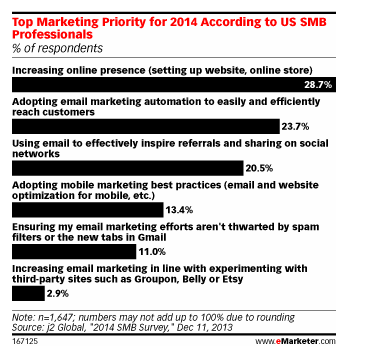 While larger companies see mobile as a top marketing priority for 2014, SMBs are still behind in seeing its significance for marketing. eMarketer estimates that more than 45% of the US population will use the mobile internet at least monthly this year and that will rise to 66% by 2017.
A quick look at any company's web analytics account will most likely show mobile visits significantly increasing from the last few years as its visits from PCs goes down. Even with this ever evolving trend SMBs are still slow to establish even a basic mobile-optimized website.
The result of not optimizing for mobile is significant as I've seen recently transformations in lead generation and sales due to incorporating mobile strategies. When going from a non-mobile optimized site to one with responsive design, you'd be amazed at the spike in website conversions.
With the huge proliferation of mobile and tablet use a responsive designed website is a necessity, not a luxury. If you do anything in 2014, a website that is mobile optimized should be 1st priority. Don't worry about building an app. Your website is more important.
Here are some resources to get you started:
http://onlinecrowd.com.au/5-tips-help-small-business-mobile-marketing/
http://www.searchenginejournal.com/important-responsive-design-interview-michael-david/80579/
http://www.inmotionhosting.com/blog/the-importance-of-a-responsive-web-design-to-your-business/