Facebook just announced a very significant development in the world of social media yesterday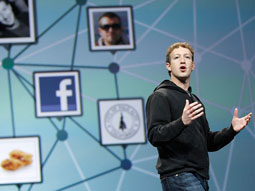 called the Open Graph. It allows for any and all websites to become social through a simple "Like" button which companies can include on their individual websites. Users will now be able to click on a page, comment, picture or other content to signal their interest in that item and share it with their friends on Facebook.
We are definitely now into the Era of Social Colonization as laid out by Jeremiah Owyang and Forrester Research that predicted that every experience on the web will be social. Even if companies or organization aren't on any social channels they can still be social using this new functionality. There are now more than 400 million people on Facebook so this move is quite significant in terms of leading the way for other social channels to adopt this mode of sharing.
This bold move by Facebook is also putting it in direct competition with Google in terms of aggregating information on people's online preferences and behaviors. Facebook will map out connections between people and their interests, gathering more explicit information about users' favorites in order to deliver personalized experiences as well as provide for better targeting for ads.
It should be very interesting to see how many websites will start including this function on their web pages and content. Facebook said more than 70 partners have signed up to embed "Like" buttons or other customization widgets on their sites, including ticketing site NYTimes.com and CNN.com.
"The Web is at a really important turning point right now," said Facebook CEO Mark Zuckerberg. "Up until recently, the default on the Web has been that most things aren't social and most things don't use your real identity." Facebook, has now launched us over the deep end into this Era of Social Colonization and is driving the increasing relevance of social media for companies and brands.
Articles:
For Developers:
---