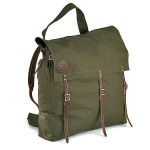 In my many years of hiking, canoeing and camping throughout the Minnesota's Boundary Water Canoe Area (BWCA), I have acquired quite an arsenal of camping paraphernalia, including my most prized position; a #4 Duluth Pack that safely caries all my gear through rain, snow and wind. It's one of the few products on the planet that are built to last. In fact, Duluth Pack guarantees their packs…for life.
As an interactive marketer, I thought that this company would be a perfect fit for social media as it has a loyal customer base and manufactures a product that invokes great memories of past adventures. Much to my surprise, this old company had already taken to the new media with a significant presence on Twitter, Facebook and the blogosphere.
Return On Investment
I recently had the opportunity to speak with Molly Solberg, who is behind all this social networking for Duluth Pack, and was able to get her take on how they have approached social media and if they have managed to realize an actual return on investment.
As it happens, they have been able to build significant sales growth through their social engagement with little capital investment. They've been able to drive significant amounts of traffic to their website via Facebook, Twitter and their blog; all within one year. Through their social networking they managed to get the attention of a New York Times reporter and were mentioned in a NYT article that eventually resulted in a flood or orders from all over the world. This led in turn led to further mentions on blogs and other social networks and eventually resulted in a couple of significant new corporate accounts. Talk about a return on investment.
Keys To Success
Much of Duluth Pack's social media success can be attributed to Molly who has the gift for gab and is comfortable being social in an online setting. Her interactions on Facebook and Twitter are quite genuine and friendly with and most importantly; engaging. Her blog posts on river canoe trips, winter camping and the BWCA speak directly to their target audience and in essence act as a resource to people interested in these activities.
Molly doesn't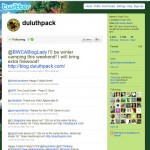 just talk about how wonderful their products are but she makes sure to talk about camping and canoeing while also being conversational , mentioning things like the Vikings game, how cold the weather is in Duluth, links to bears having babies….you name it. She engages people in everyday conversations and makes the effort to thank them for their comments and suggestions and is willing to share what's going on with the company. Its not just about selling, it's about being social, which eventually leads to a sale.
Observing Duluth Pack's social media success has solidified my belief that one of the most important aspects of a successful social networking strategy, not only relies on a solid plan, but also greatly depends on who you have conversing on those social channels. Identifying the right people who have the proper temperament, social skills, passion, and know-how can make the difference between wasting staff time and driving major sales opportunities.