Thursday Groupon filed papers to go public, hoping to raise some cash ($750 million) in one of this year's most hotly anticipated Internet IPOs. Coming on the heals of LinkedIn's IPO, it somehow feels like the 90s again with bloated valuations of tech (now social media) companies. Rumblings have it that Groupon's valuation could be upwards of $25 billion, dwarfing Googe's recent offer of $6b. I distinctly remember March of 2000 when my attempt to place a bet on Nortel to win severely took a header. That same feeling is coming back.
Don't get me wrong, I think these social media companies have a great future but I just don't think their valuation is at the point where I'd pay a premium. Just looking at Groupon's books (see chart) you have to wonder if it's worth it.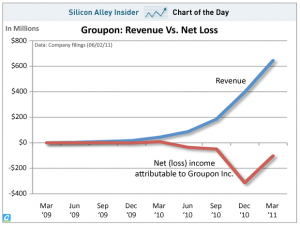 My financial tip of the day: If you're looking to make a splash in the stock market, avoid these stocks like the plague; unless of course you can get a Groupon for that IPO. Stick with index funds. Once bitten, twice shy is what I say.